Long road to recovery can lead through the home
28 October 2022
Bowel cancer is Australia's second deadliest cancer, with 300 Australians diagnosed with this cancer each week. Being told that one has cancer can be overwhelming and understandably invokes fear and uncertainty for patients and their families. Yet if discovered early, bowel cancer is treatable.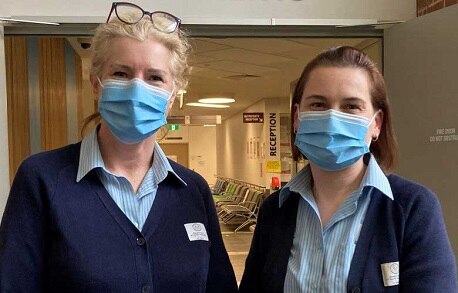 At the Lyell McEwin Hospital, Bowel Cancer Nurse Consultants – Kelly and Margie – are assisting patients to navigate this journey with the introduction of Telehealth Virtual Clinics, designed to follow up with patients after they've had surgery to remove their bowel cancer.
"The virtual clinic has been particularly beneficial for those patients living in rural and regional areas. With Lyell McEwin being a large hospital, we treat many people from Port Pirie and other places in the mid-north," Kelly explained.
"Patients who have undergone surgery for colorectal cancer usually attend follow-up appointments for 5 years following their diagnosis. They can have a minimum of 11 appointments over these five years with tests such as CT scans and blood tests. Our clinic enables us to have a virtual discussion with our patients so that we can ask questions designed to measure their progress and improve their follow-up. This can reduce trips to the Lyell McEwin Hospital by almost fifty per cent. I'm sure patients prefer to be in their own home rather than possibly waiting for long periods in outpatients," she said.
"The Nurse Consultant role at Lyell McEwin had its genesis in 2018. It took some time to develop the clinic's template and how the surveillance protocol would be successfully incorporated in this nurse-led clinic. The surgeons oversee our work, and we work with them in determining our involvement in a patient's program," Margie said.
"We meet patients as close to diagnosis as possible. It's very confronting for them, but we can reassure them that we'll be there through their journey, available at all times to talk with them, answer their questions, organise their post-op appointments, and keep an eye on their recovery," she said.
Kelly says without hesitation, however, that prevention is better than cure. "Take the test when you get it in the mail, to allow for early diagnosis" she said.