For the menu below, use line-by-line navigation to access expanded sub-menus. The Tab key navigates through main menu items only.
Strathalbyn and District Health Service
For all emergencies, phone 000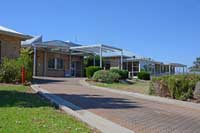 Postal address: 14 Alfred Place Strathalbyn SA 5255
Strathalbyn and District Health Service provides acute services, ranging from in-hospital care for adults and children by local general practitioners to specialist surgical, outpatients and aged care beds.
Patients may begin their stay at the Strathalbyn and District Health Service but finish their care at one of the neighbouring hospitals with specialist medical or allied health input when required. All hospitals in the area work collaboratively to support the patient care needs of the region.
Accident and emergency
The Barossa Hills Fleurieu Local Health Network has temporarily closed some of its accident and emergency services, where they are co-located with aged care facilities, to decrease the risk of transmission of COVID-19 and protect aged care residents in the Barossa Hills Fleurieu region.
The temporary closure applies to accident and emergency services at Strathalbyn and District Health Service.
Strathalbyn and District Health Service will continue urgent elective surgery, with strict pre-screening in place for patients prior to arrival.
Services to the people living in the aged care facility are continuing as planned and in accordance with the advice given by the Commonwealth Department of Health. General practitioners can continue to attend patients in the hospital and aged care residents, as required.
The closest accident and emergency service is at Mount Barker Hospital.
Members of the public requiring non-emergency medical attention should go to their local GP, dentist or pharmacy according to their presenting condition.
In an absolute medical emergency, call 000.
In a mental health emergency, call 13 14 65.
Restricted visitor access
BHFLHN has applied restricted access to all of our acute and residential aged care facilities. Public access to the facilities are no longer open to all.
Patient and resident visitors:
On any given day there can be up to two visitors per patient or resident, attending for one visit of no more than 2 hours in duration.
Visiting times will be between 10am and 1pm and 5pm and 8pm. No visiting will be permitted outside of these hours except if the patient or resident is receiving palliative care services, when special arrangements will be made.
The entrances will be staffed by nurses who will check that the visitor is one of the two people nominated by the patient or resident.
When presenting at an entrance all visitors will screened against the following criteria and their temperature will be checked.
Visitors are not permitted if they have:
returned from overseas in the last 14 days.
returned from another state or territory in the last 14 days.
been in contact with a confirmed case of COVID-19 in the last 14 days.
they have visited the Barossa in the last 14 days
if they have visited or been through the Adelaide Airport including the car park, in the last 14 days
have a fever or symptoms of a respiratory infection such as a cough, sore throat or shortness of breath.
show an elevated temperature reading on the day.
are under 16, except in exceptional circumstances.
if they are not on the previously approved list of visitors.
Once access has been granted, visitors will be provided with information and asked to go straight to the ward location or room. On arrival they will be required to wash their hands and practice physical distancing for the 30-minute visit.
For information and updates on COVID-19:
Mental health emergency
If you are experiencing a mental health emergency, you can present to the Accident and Emergency service at Strathalbyn and District Health Service.
Alternatively, contact the Rural and Remote Mental Health Service on 13 14 65 for mental health counselling, support and information 24 hours a day, seven days a week.
New aged care precinct in Strathalbyn
The South Australian Government is exploring how world-leading aged care can be delivered at Strathalbyn to support the local community to age well, whether that be through supporting people at home, connecting them with others, providing respite care, dementia care or day care, or providing a home in an aged care facility or aged accommodation.
This initiative is being led by the Barossa Hills Fleurieu Local Health Network, which operates the Strathalbyn and District Health Service including the Strathalbyn and District Aged Care Facility, and the Department for Health and Wellbeing and the Office for Ageing Well; delivering on the Government's commitment to supporting South Australians to age well.
The South Australian and Commonwealth Governments have already committed to jointly funding an extension of the 56-bed Strathalbyn and District Aged Care Facility by 36 beds. In addition, the State Government has made a commitment to reopen Kalimna, and is exploring a number of potential uses for the site. The State Government has also made a commitment to work with the Commonwealth Government and aged care providers to increase the provision of other aged care services in Strathalbyn and the region served by the town.
On Wednesday 6 March 2019, the Minister for Health and Wellbeing, the Hon. Stephen Wade MLC, and the Member for Heysen, Josh Teague MP, announced that the Global Centre for Modern Ageing (GCMA), a world leader in modern ageing design, had been appointed to engage the community and clinicians in a co-design process to inform the future design of a new aged care precinct in Strathalbyn. Minister Wade also announced that GCMA had partnered with The Australian Centre for Social Innovation (TACSI) to support the co-design process.
The 'Strathalbyn Residential Aged Care Facility Expansion Project' is expected to go to tender for construction contractors in the second quarter of 2020.
In the meantime, the following documents are available to view:
The 'Strathalbyn Residential Aged Care Facility Expansion Project concept plans:
The 'Request for Interest' process that was released earlier this year regarding the reuse of the Kalimna building has now closed, with discussions underway with a potential future provider. This is another important part of the aged care precinct planning for Strathalbyn.
Car parking
Parking is available at the front of the hospital on Alfred Place. There is also disabled parking on site.
Disabled access
Strathalbyn and District Health Service has full disability access. If you have special needs and are unsure if you will be able to access the Health Service, please contact Reception for more information and assistance.