For the menu below, use line-by-line navigation to access expanded sub-menus. The Tab key navigates through main menu items only.
Mount Barker District Soldiers' Memorial Hospital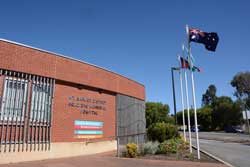 For all emergencies phone 000
Postal address: PO Box 42 Mount Barker SA 5251
Mount Barker District Soldiers' Memorial Hospital provides acute services ranging from in-hospital care for adults and children by local general practitioners to specialist surgical, obstetrics and outpatients.
Patients may commence their stay at Mount Barker District Soldiers' Memorial Hospital but finish their care at one of the neighbouring hospitals with specialist medical or allied health input when required. All hospitals in the region work collaboratively to support the patient care needs of the region.
COVID-19 information and testing
Due to COVID-19, changes to services, visiting hours and visitor access now apply.
For information on the COVID-19 drive-through testing site go to the Mount Barker COVID-19 testing clinic page. For general information on COVID-19 see:
Accident and emergency services
In a medical emergency phone 000 and await ambulance attendance
The Australian Government has committed $8.6 million in funding for a new emergency department to be built at the Mount Barker Hospital. to find out more about the upgrade, read the services provided by Mount Barker Hospital page.

Mental health emergencies
If you are experiencing a mental health emergency you can present to the accident and emergency service at Mount Barker District Soldiers' Memorial Hospital.
Alternatively, contact the Rural and Remote Mental Health Service on 13 14 65 for mental health counselling, support and information 24 hours, 7 days.
Restricted visitor access
BHFLHN has applied restricted access to all of our acute and residential aged care facilities. Public access to the facilities are no longer open to all.
Patient and resident visitors:
On any given day there can be up to two visitors per patient or resident, attending for one visit of no more than 2 hours in duration.
Visiting times will be between10am and 1pm and 5pm and 8pm. No visiting will be permitted outside of these hours except if the patient or resident is receiving palliative care services, when special arrangements will be made.
The entrances will be staffed by nurses who will check that the visitor is one of the two people nominated by the patient or resident.
When presenting at an entrance all visitors will screened against the following criteria and their temperature will be checked.
Visitors are not permitted if they have:
returned from overseas in the last 14 days.
returned from another state or territory in the last 14 days.
been in contact with a confirmed case of COVID-19 in the last 14 days.
They have visited the Barossa in the last 14 days
If they have visited or been through the Adelaide Airport including the car park, in the last 14 days

have a fever or symptoms of a respiratory infection such as a cough, sore throat or shortness of breath.
show an elevated temperature reading on the day.
are under 16, except in exceptional circumstances.
if they are not on the previously approved list of visitors.
Once access has been granted, visitors will be provided with information and asked to go straight to the ward location or room. On arrival they will be required to wash their hands and practice physical distancing for the 30-minute visit.
Are unable to evidence their 2020 seasonal influenza vaccination (from 1 May 2020).

For information and updates on COVID-19:
Private patients
At the Mount Barker District Soldiers Memorial Hospital you can choose to be admitted as a Private Patient. Admission as a private patient has benefits for both you and the hospital. For more information please visit attending hospital as a private patient.
Car parking
Parking is available on site, entering via the main entry on Wellington Road. There is also disabled parking on site.
Disabled access
Mount Barker District Soldiers' Memorial Hospital has full disability access. If you have special needs and are unsure, please contact reception who will assist you with your specific enquiry.