For the menu below, use line-by-line navigation to access expanded sub-menus. The Tab key navigates through main menu items only.
Murray Bridge Soldiers' Memorial Hospital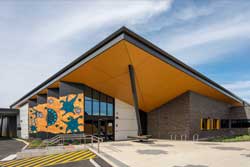 For all emergencies phone 000
SA Medical Imaging: (08) 8535 6740
SA Pathology Service: (08) 8535 6794

Postal address: PO Box 346 Murray Bridge SA 5253
Murray Bridge Soldiers' Memorial Hospital provides acute services ranging from in-hospital care to specialist surgical, obstetrics and outpatients.
Patients may commence their stay at Murray Bridge Soldiers' Memorial Hospital but finish their care at one of the neighbouring hospitals with specialist medical or allied health input when required. All hospitals in the area work collaboratively to support the patient care needs of the region.
COVID-19 information and testing
Due to COVID-19, changes to services, visiting hours and visitor access now apply.
For information on the COVID-19 drive-through testing site go to the Murray Bridge Soldiers' Memorial Hospital COVID-19 testing clinic page. For general information on COVID-19 see:
Accident and emergency services
In a medical emergency phone 000 and await ambulance attendance
When you arrive at the Murray Bridge Soldiers' Memorial Hospital, you will be seen by the registered nurse to collect information and assess your illness or injury prior to seeing a doctor.
Mental health emergencies
If you are experiencing a mental health emergency you can present to the accident and emergency service at Murray Bridge Soldiers' Memorial Hospital.
Alternatively, contact the Rural and Remote Mental Health Service on 13 14 65 for mental health counselling, support and information 24 hours, 7 days.
Private patients
At the Murray Bridge Soldiers Memorial Hospital you can choose to be admitted as a Private Patient. Admission as a private patient has benefits for both you and the hospital. For more information please visit attending hospital as a private patient.
Visitors

Visitors play an important part in any patient's hospital stay, and visitors are welcome.
Any visitors who are required to be in the hospital building outside these hours will need to register at the admissions desk and receive an identity badge.
Car parking
Parking is available at the front of the hospital. There is also disabled parking on site.
Disabled access
Murray Bridge Soldiers' Memorial Hospital has full disability access. If you have special needs and are unsure, please contact reception who will assist you with your specific enquiry.
New Murray Bridge Emergency Department
The new Murray Bridge Soldiers' Memorial Hospital Emergency Department (ED) was officially opened by the Minister for Health and Wellbeing, the Hon. Stephen Wade MLC on Wednesday 21 October 2020 and opened to consumers requiring emergency treatment on Wednesday 28 October 2020.
The $7 million upgrade to the ED includes:
Two resuscitation bays (one more than previously available)
Seven treatment bays (four more than previously available)
A paediatric treatment bay
Two procedure rooms (including a private, multipurpose room with an ensuite, that can be used for gynaecological procedures)
Two consulting rooms
A private triage room
A separate quiet room for vulnerable patients
A relatives' room
Accessible toilet and shower facilities
An undercover ambulance lobby that will make it easier for paramedics to transfer patients directly into the ED from an ambulance vehicle
A nurses' station
Clean and dirty utility rooms
An equipment storage area
A staff room, offices, change room and bathroom facilities
A dedicated waiting room
A drop-off point for patients with direct access to the ED
An external decontamination shower
Two new accessible car parking spaces.
The new ED also has capacity for up to three people to have cardiac monitoring (up from one) at the same time.
It has been designed to:
Make it easier for hospital staff to respond to emergencies and look after patient needs
Ensure nursing staff have full visibility of all the patient treatment bays
Ensure patients have increased privacy when it's needed, for example, during triage and gynaecological procedures
Streamline the main entrance of the hospital, improve wayfinding and patient flow
Create a harmonious work environment where staff, doctors and nurses have access to dedicated working spaces.
Additional works, including relocation of SA Medical Imaging, completion of the link-way between the hospital and the new medical records area, the ultrasound office and waiting room, will be completed by late 2020.
The redevelopment was undertaken by Shape Australia Pty Ltd.
Riverland Mallee Coorong Local Health Network (RMCLHN) wishes to thank the Murray Bridge Soldiers' Memorial Health Advisory council for their support throughout the redevelopment project.