For the menu below, use line-by-line navigation to access expanded sub-menus. The Tab key navigates through main menu items only.
Wudinna Hospital
For all emergencies phone 000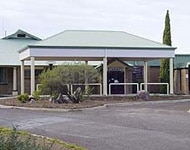 Postal address: PO Box 112 Wudinna SA 5652
Email: HEALTHCHSAWudinnaHospital@sa.gov.au

The Wudinna Hospital is part of the Eyre and Western Health Services. Our hospital provides health care services to Wudinna and surrounding districts in Central Eyre Peninsula.
Trudinger Residence has 10 beds on site and provides accommodation, including short-term respite care, for older people with a high level of needs and for those with a low level of needs.
COVID-19 home-based testing service
The home-based COVID-19 testing service operates Mondays and Thursdays (not public holidays) from 2.00 to 4.00pm. A GP referral is required. Outside of these hours, patients are recommended to self-isolate and wait for the testing clinic to open. If symptoms are mild to moderate, patients are encouraged to phone GP or ED. If symptoms are severe, phone 000 and advise symptoms. For more information, phone: 1300 334 222

Due to COVID-19, changes to services, visiting hours and visitor access now apply.
For more information see Eyre and Far North LHN response to coronavirus disease 2019 (COVID-19).
For information and updates on COVID-19:
Accident and emergency
This is a 24-hour service. When you arrive at accident and emergency, you will be seen by the duty nurse to collect information and assess your illness or injury.
In a medical emergency, it is important that you do not 'self present' to hospital. SA Ambulance Service emergency medical dispatch support officers can provide advanced first-aid advice over the phone while an ambulance is on its way to you.
Car parking
There is disabled parking onsite.
Disabled access
The building is wheelchair accessible and there are toilets for people with disability. Please ask at Reception.