For the menu below, use line-by-line navigation to access expanded sub-menus. The Tab key navigates through main menu items only.
Mobile imaging service
South Australia Medical Imaging (SAMI) is undertaking a trial over the next 6 months to offer plain x-ray imaging services to residents of aged care facilities.
This service will be provided to residents with no out of pocket expenses incurred by the resident or their care facility.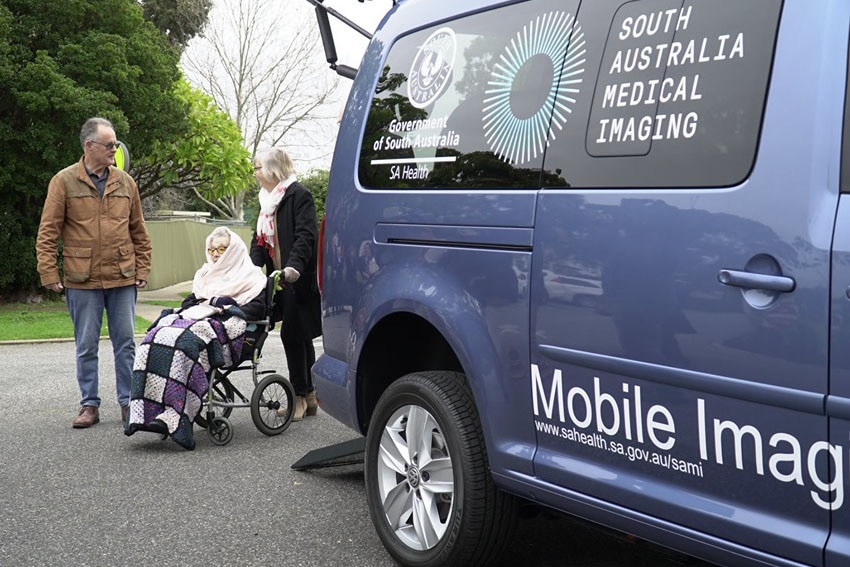 During the trial period, requests for imaging will only be accepted via the Southern Adelaide Local Health Network (SALHN) Aged Care clinical team.
This trial aims to support residents who are clinically stable, to receive imaging in their residential care facility, avoiding the need to attend an emergency department. This supports SA Health's commitment to ease pressure on emergency departments and deliver care closer to home.
The first phase of the trial will require residents to have been reviewed by the SALHN Aged Care clinical team following a referral from either the Residential Aged Care Facility (RACF) where the patient resides or SA Ambulance Service (SAAS).
The service will be staffed by a SAMI employed radiographer and a SAMI enrolled nurse, and will be based at the Repat Health Precinct.
Images will be transmitted to the SA Health Clinical information systems, reported on by SAMI radiologists, and be available for viewing by clinical staff employed by SA Health involved in the delivery of care to the resident.
Further information
For enquires about this service, please contact:
Susan Waters
Nursing Director
Telephone: 08 7117 2153
Email: susan.waters@sa.gov.au