For the menu below, use line-by-line navigation to access expanded sub-menus. The Tab key navigates through main menu items only.
RMCLHN Midwifery Group Practice
About Midwifery Group Practice
The Riverland Mallee Coorong Local Health Network (RMCLHN) is implementing a new Midwifery Model of Care (MMoC) pilot at Riverland General Hospital in Berri.

The type of Midwifery Model of Care that is being implemented at Riverland General Hospital is called Midwifery Group Practice – or MGP for short.
It is a continuity of care model, whereby salaried midwives are allocated a caseload of women to care for and support throughout their pregnancy and up to six weeks postpartum.
This allows the woman and their allocated midwife the opportunity to form a trusted, ongoing relationship throughout the pregnancy journey, rather than the woman being assigned whichever midwife is rostered on a shift at the time of a maternity-related presentation.
Our Midwifery Team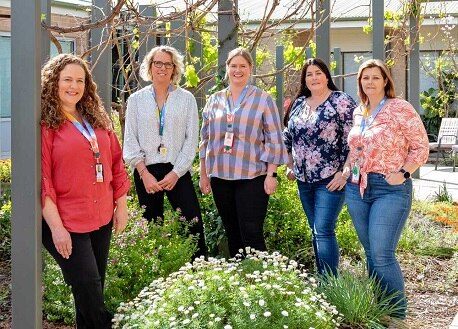 From left to right: The Riverland General Hospital Midwifery Team, Andrea, Lisa, Victoria, Heidi and Kylie (not pictured, Emily).
How it works
Under the model, midwives are free to organise their hours of work to meet the needs of their clients.
The midwives' caseload is allocated so that they work up to 38 hours per week depending on FTE. This is different from the current roster structure, whereby a different midwife is rostered on each shift, on a 24/7 roster.
Midwives consult with, and refer to, doctors and other caregivers according to guidelines and clinical need.
Research shows this type of model is attractive to, and has many positive benefits for women, their families and midwives.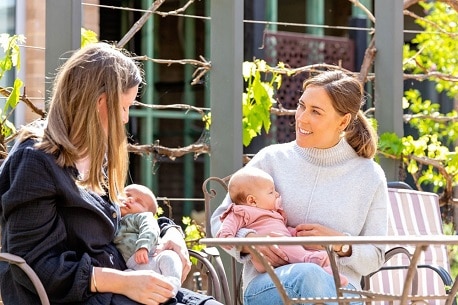 Information for maternity patients and their families
Under the new Midwifery Group Practice (MGP) model, you will be allocated a midwife who will be available for you whenever you need maternity care throughout your pregnancy and up to six weeks postpartum (after your child is born).
This means you and your family will be able to form a trusted, ongoing relationship with one midwife throughout your pregnancy journey.
Your initial booking visit will happen at Riverland General Hospital. From there, your pregnancy visits can happen at the hospital or in your home. The number of visits will be negotiated between you, your doctor and your midwife.
When you are in labour, your midwife will discuss with you when to come into the hospital. They will provide care and support to you during labour and birth. If you and your baby are well, you can be discharged home 4-6 hours after birth and your midwife will help you plan for discharge.
After you have been discharged, your midwife will visit you and your baby at home for a minimum of two weeks, and up to six weeks, following the birth of your baby. Your GP and the team at CAFHS (Child and Family Health Service) will provide additional care for you and your baby from two weeks after birth.
How to book into the program
To find out more about the MGP pilot at Riverland General Hospital, chat to your GP or GP Obstetrician or contact the Riverland General Hospital Midwifery Team by phone on (08) 8580 2400 or by e-mail at Health.RGHMidwiferyGroupPractice@sa.gov.au
About the Pilot
The Midwifery Model of Care will be piloted at Riverland General Hospital for 12 months, launching on Monday 11 October 2021, with a two-week transition period beginning on Monday 27 September.
RMCLHN is in discussions with the University of South Australia and the Rosemary Bryant Foundation about undertaking an evaluation of the MMoC at RGH following completion of the pilot.
Following evaluation, RMCLHN will then consider implementing the MMoC permanently at Riverland General Hospital, and across all RMCLHN birthing sites.