For the menu below, use line-by-line navigation to access expanded sub-menus. The Tab key navigates through main menu items only.
Penola War Memorial Hospital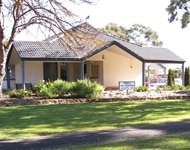 For all emergencies phone 000
Postal address:18 Church Street Penola SA 5277
Email: HEALTHCHSAPenolaHospital@sa.gov.au
The Penola War Memorial Hospital is part of the Limestone Coast Local Health Network. Our hospital offers a 24-hour accident and emergency service, six beds for medical, post surgical, convalescent, rehabilitation, palliative care and Transitional Care Packages. The hospital also manages the Penola Medical Clinic, community nursing and in-home support programs. Services for outpatients include medical, nursing and allied health services.
Accident and emergency services
With the increased risk of COVID-19 following the opening of state borders, it is important we safeguard those most vulnerable to the disease. With this in mind and due to the co-location with a Residential Aged Care Facility, the Penola Hospital Emergency Department (ED) has been temporarily closed until further notice.
The community can be reassured this is a temporary closure and will be regularly reviewed. We will continue to monitor the COVID-19 situation in the Limestone Coast and ensure appropriate measures are taken to ensure community safety for our vulnerable and elderly population.
Visiting hours
Visitors play an important part in any patient's stay. Visitors are encouraged to visit within the following times:
Hospital visitors: 11.00 am to 8.00 pm daily
All visitors must wear a surgical mask.
Visitor numbers are not restricted however, we ask that you continue to comply with physical distancing and room capacity notices.
Please ensure that you check in and scan the QR code on arrival
𝗣𝗹𝗲𝗮𝘀𝗲 𝗗𝗼 𝗡𝗢𝗧 𝘃𝗶𝘀𝗶𝘁 𝗶𝗳 𝘆𝗼𝘂 𝗵𝗮𝘃𝗲:
a temperature higher than 38 degrees Celsius, fever, chills or symptoms of acute respiratory infection in the preceding 72 hours
been a known contact with a person who has a confirmed case of COVID-19 for 14 days from exposure (except for the purposes of obtaining medical care or medical supplies).
tested positive for COVID-19 in the last 10 days.
Emergency Department: At present, no visitors can enter the Emergency Department (ED) to accompany a patient at any of our sites. Exceptions are at the discretion of nursing and midwifery staff, whom permission should first be obtained.
Residential Aged Care Facilities: Before entering one of our LCLHN Residential Aged Care Facilities, you will need to complete a visitor screening checklist on arrival.
Completed hand hygiene practices
Wearing a surgical mask
Taken a rapid antigen test (RAT) with a negative result
Proof of Influenza vaccination
Proof of COVID-19 vaccinations
You are not a known close contact of COVID-19 (past 14 days)
You have not been directed to quarantine or isolate (past 14 days)
You have not tested positive for COVID-19 (past 10 days)
You have not experienced fever, chills, symptoms of an acute respiratory infection such as a cough, sore throat or shortness of breath, or loss of taste and smell in the last 72 hours
Checked your temperature and it is less than 38 degrees Celsius
Scanned the QR code and completed the Aged Care Register
COVID-19
Car parking
There is disabled parking onsite.
Disabled access
The building is wheelchair accessible and there are toilets for people with disability. Please ask at Reception.