For the menu below, use line-by-line navigation to access expanded sub-menus. The Tab key navigates through main menu items only.
Rural Emergency Responders Network (RERN) - Member resources
RERN procedures and information
Forms
Uniforms
All RERN members are supplied with a shirt, trousers and all weather jacket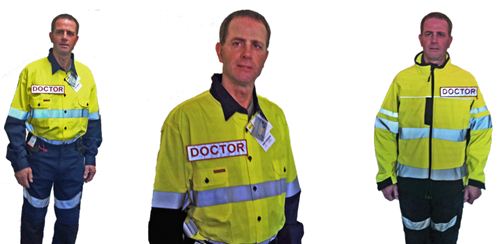 Doctor has been embroided on the back of the shirt and jacket for ease of recognition
Trousers have knee pads for extra comfort.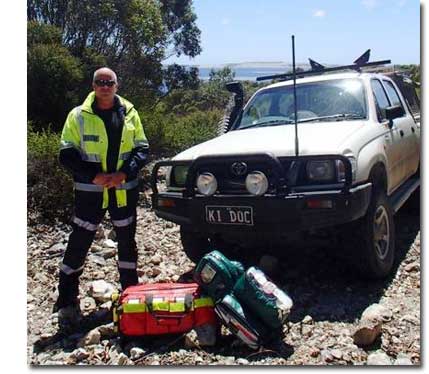 Kits
Each RERN member receives a full equipment pack for support when attending calls. These packs include both equipment and the most commonly used emergency drugs with the exception of narcotics.
Narcotics are to be collected from the local hospital prior to going out to the call if indicated.
RERN packs are distributed from SAAS and remain the property of SAAS.
When a doctor leaves the group, the kit is to be returned to SAAS for restocking and redistribution.
RERN Red bag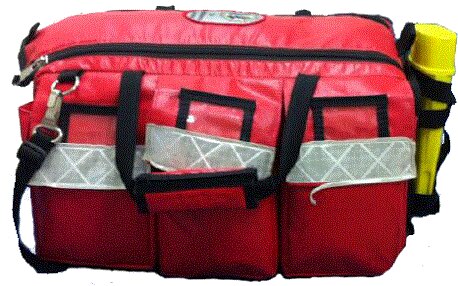 Contents:
Co-Phenylcaine forte Spray x 1
Pentothal 500mgs x 1
Water for Irrigation x 2
0.9%Sodium chloride 1000mIs & 500 mls x 1 each
Midazolam x 2
Glucagon x 1
Benzylpenicillin 600mgs x 2
Naloxone 400ug x 4
Amiodarone x 3
Atropine 600 mcg x 3
Adrenaline 1mg in 1000 x 8
Metoclopramide 10mgs x 1
Lignocaine 2% x 2
Hydrocortisone 250mgs x 2
Adenosine 6mgs x 6
Penthrox x 1
Glucose infusion 50% x 1
Glucose Gel x 1
Nitrolingual Spray x 1
Atrovent nebules x 2
Sodium chloride for injection x 5
Salbutamol nebules x 5
Aspirin x 6
Lubricating Jelly x 4
Bite Block x 1
Syringes 10mI x 2
Syringes 50mI x 1
Cotton tape & Micropore x 1
Oesophageal Intubation detection device
Feeding tubes—dual port 10 & 14FG x 1 each
Intubating Stylet 6 & 14 x 1 each
Y suction catheter 6,8,10,12,14,& 16x 1 each
MR052 Surgical Cric Kit x 1
Bougie Kit
Endotracheal Tubes:

3.0 + 3.5 x 1 each
4.0 + 4.5 X 1 each
5.0 + 5.5 x 1 each
6.0 x 1 each 7.0 x 1 each 8.0 x 1 each 9.0 x 1 each

Laryngeal masks 2 & 3 x 1 each
Duodenal tube FG 10 x 1
Jelco 14 g, 16g, 18g, 20g, 22g, 24g x 2 each
Interlink injection site x 4
Sharp safe x 1
Hazard bags x 2
Co-Phenylcaine spray Nozzles x3
Laryngoscope Blades 1— 3 — 4 x 1 each
Protective gown med + large x 1 each
Emesis Bag x 1
Protective glasses x 1
Mask x 1
Scissors x 1
Luer Lock Cannula x 2
Bone marrow needle x 1
Mucosal atomisation Device x 1
BD connector x 1
Opsite x 3
Mixing Cannula x 3
Needles Blunt fill x 4
23g x 4
RERN Green bag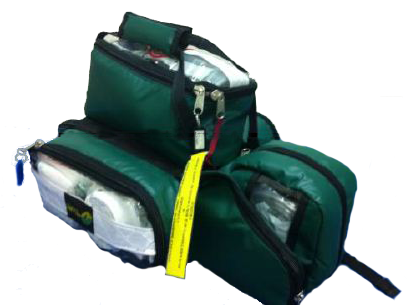 Contents:
Nebuliser Bowl with T Piece and tubing x 1
Syringes 5mIx 2
Cervical collars (Adult & Paediatric) x 1 each
2ml x 2
Penthrox x 1
Needles 23g x 3
Salbutamol nebules X 5
Blunt needles x 3
Glucagon x 1
Dwell Cath Cannula 12g x 9
Adrenaline 1:1000 x 2
Ampoule breaker x 1
Naloxone 400mg/lml x 1
Sodium Chloride for INJ x 2
Midazolam Smg./1m1x 2
Emesis container x 1
Nitrolingual Spray x 1
Bandages 10cm & 15cm x 1 each
Water for Injection x 1
Mask x 1
Alcohol swabs x 6
Gown med & large x 1 each
Sling x 1
Eye pad x 2
Combine Dressing 10 cm x 9cm x 2 20cm x 9cm xl 20cm x 20cm x 2 20cm x 75cm x 1
Macintosh Blade 3 & 4 x 1 each
Magill forceps large & small x 1 each
Scissors
Air Viva Bag x 1
Bag & masks % 4/5 x 1 each
Child masks 00 + 1 + 2 x 1 each
Paediatric head
Adult oxygen mask and re-breather mask x 1
Oxygen tubing x 1
Guedells Airway

00 x 1
1 x 1
2 x 1
3 xl & 4 x 1

Glucose Gel x 1
Glucometer Pencil torch Blood pressure unit
Stethoscope