For the menu below, use line-by-line navigation to access expanded sub-menus. The Tab key navigates through main menu items only.
Penola War Memorial Hospital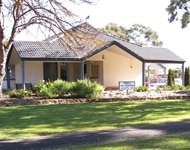 For all emergencies phone 000
Postal address:18 Church Street Penola SA 5277
Email: HEALTHCHSAPenolaHospital@sa.gov.au
The Penola War Memorial Hospital is part of the Limestone Coast Local Health Network. Our hospital offers a 24-hour accident and emergency service, six beds for medical, post surgical, convalescent, rehabilitation, palliative care and Transitional Care Packages. The hospital also manages the Penola Medical Clinic, community nursing and in-home support programs. Services for outpatients include medical, nursing and allied health services.
Accident and emergency
The Penola War Memorial Hospital offers a 24/7 accident and emergency service.
For information and updates on COVID-19
Visiting Hours
As part of our response to COVID-19, arrangements for visitors across Limestone Coast LHN sites have been amended. Please see visiting public hospitals during COVID-19 for current visitor arrangements.

Car parking
There is disabled parking onsite.
Disabled access
The building is wheelchair accessible and there are toilets for people with disability. Please ask at Reception.