For the menu below, use line-by-line navigation to access expanded sub-menus. The Tab key navigates through main menu items only.
Ambulance Service - SAAS
In an emergency, always call 000 for expert medical assistance.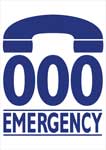 SA Ambulance Service (SAAS) is South Australia's provider of emergency ambulance transport, clinical care, and patient transport services.
We are committed to ensuring South Australia has access to the best possible emergency pre-hospital medical care, non-emergency transport, and rescue and retrieval services.
For more information visit the SA Ambulance Service website.