For the menu below, use line-by-line navigation to access expanded sub-menus. The Tab key navigates through main menu items only.
Poisoning prevention in the home
Many common things around your house can be poisonous. Poisons can make children very sick and can sometimes cause death.
Can your child reach paracetamol, button batteries, dishwasher tablets or hand sanitiser? These are four of the most common and dangerous causes of child poisoning.
Almost any substance could be poisonous if the dose or exposure level is high enough. Even substances labelled 'natural' or 'eco-friendly', or those that are good for you in small doses, can be as dangerous to children.
To learn more about what poisons may be stored in your house and what you can do to prevent poisoning at home, watch the video below.

Translated information about poisoning and keeping children safe is available on the Kid Safe SA website.
Who and when to call for help
In an emergency call 000 (Triple Zero) for an ambulance – if a person has collapsed, is having a seizure or fit, or has stopped breathing.
If you think someone has been poisoned, call the Poisons Information Centre immediately for advice on 13 11 26.
Don't induce vomiting or give the victim anything to drink (for example Syrup of Ipecac) unless advised by the Poisons Information Centre or other medical professional.

Getting help quickly
Have information ready for the emergency responder or Poisons Information Centre, like the:
medicine or poison label/container
victim's name and age.
Keep the Poisons Information Centre phone number (13 11 26) saved in your phone and keep the number on your fridge. Fridge magnets are available by contacting SA Health's Controlled Substances Licencing Team.
Simple things to prevent poisonings
There are simple things you can do to prevent poisonings.
keep medicines and poisons out of the reach of children - them in a locked cupboard or container, or put them in a high place, at least 1.5 metres high
never leave medicines or poisons unattended
keep bags and handbags out of reach
always supervise children around medicines and poisons - they are fast, curious and are great at climbing and find ways to open cupboards and containers
supervise children when using hand sanitiser
Other useful tips:
check around your home for medicines and poisons you don't need and safely dispose of them
close lids tightly immediately after use – remember 'child-resistant' does not mean 'child-proof'
keep medicines and poisons in their original containers with the labels attached – never put them into other containers
always read the label and follow all instructions, directions, warnings and safety precautions
don't store or use poisons near food
don't refer to medicines as 'lollies'
store poisons that need refrigeration (for example, some medicines) in a small and lockable container
keep children, pets and toys away from the area where you are using poisons as children often copy what they see others doing.
only prepare the amount of poison you need for the job
have adequate ventilation when using oven cleaners, bleach and shower cleaners
make sure all pest baits (including mothballs) are kept in tamper-resistant stations and place them out of sight and reach of children and pets
store poisons away from ignition sources, areas prone to flooding or water damage, and other poisons that may be incompatible (for example flammable and caustic liquids)
if there is a safer alternative to the poison you are currently using – substitute for safer products wherever possible

Common household poisons
Common household poisons include:
medicines (for people and animals), supplements and remedies which include paracetamol, ibuprofen, iron tablets, contraceptive pills, anti-depressants, cough and cold medicines, chest rubs and vaporiser fluids
personal hygiene products and cosmetics which include hand sanitiser, mouthwash, shampoo, perfume and nail polish remover
cleaning products which include dishwashing and laundry liquid, dishwasher powders and tablets, bleach, oven cleaner, eucalyptus oil and shower cleaner
paints and solvents which include methylated spirits and turpentine
pesticides which include flea collars, fly spray, animal worming tablets, insecticides, herbicides, mothballs and snail, rodent and cockroach baits
garden and auto products which include fertiliser, petrol, diesel, oil and radiator fluid
poisonous plants, insects and reptiles
toys and other items which include button batteries, glow sticks and bubble-blowing solution.
Remember - 'natural' or 'eco-friendly' products can be poisons too.

Who is most at risk?
While we are all at risk of poisoning, children under the age of five are at the highest risk and about half of the calls to the Poisons Information Centre are about children. Poisoning can occur due to swallowing a substance, breathing it in, or being splashed on the skin or in the eyes.
Children have a higher risk of poisoning than adults because they can't read or understand warning labels, and they weigh less, so a smaller dose will be more dangerous.
Children can be clever; give them the chance and they will find their way into any 'child-resistant' package. That is why most poisoning occur when poisons are not stored safely or when your family routine changes – especially around holiday times.
Disposing of poisons safely
To find out how to safely dispose of poisons:
check the label on the container
unused medicines should be returned to your pharmacist
contact Green Industries SA
contact your local council
see the ChemClear or drumMUSTER websites for information on disposing of farm chemicals and containers.
Translated information
Translated information about poisoning and keeping children safe is available on the Kid Safe SA website.
Languages include Arabic, Bengali, Burmese, Chinese (simplified), Chinese (traditional), Dari, Dinka, Farsi, French, Hindi, Indonesian, Italian, Japanese, Korean, Nepali, Portuguese, Russian, Spanish, Thai, and Vietnamese.

Resources
The following resources are available for downloading, simply click on the chosen image for a PDF version.
Brochures
Posters
Other resources
Magnets are available by contacting SA Health's Controlled Substances Licensing team on HealthControlledSubstances@sa.gov.au
Professional print resources
The documents on this tab are able to be downloaded and sent to a professional printer. These documents should be set up ready for print. The Printing Instructions (PDF 261KB) will help guide you to be able to print the materials in a similar way to what they are provided by SA Health.
Simply click on the chosen image for a professional print PDF version.
Brochures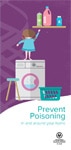 Posters
For more information
For further information on poisoning prevention contact SA Health's Controlled Substances Licensing on (08) 8226 7100.