For the menu below, use line-by-line navigation to access expanded sub-menus. The Tab key navigates through main menu items only.
Adam Liaw's Chicken And Egg Udon Salad Recipe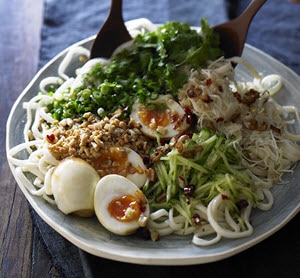 Ingredients

2 large eggs
1 chicken breast
500g frozen udon noodles
1 cup finely shredded Chinese cabbage
1 Lebanese cucumber, julienned
1/2 cup picked coriander leaves
2 spring onions, finely sliced
1/4 cup crushed roasted peanuts
Dressing
2 tbsp peanut oil
2 cloves garlic, roughly chopped
1/4 tsp dried chilli flakes
1/4 tsp sugar
1 tbsp fish sauce
30ml lemon juice (about 1 small lemon)
Method
Bring a pot or wok of water to a boil and place a bamboo steamer over it. Add the chicken fillet and steam until the centre of the chicken reaches 75oC, checking with a thermometer (this will take about 10 minutes). Steam the eggs together with the chicken for 8 minutes and chill in iced water. Peel and halve the eggs. Rub your hands with a little salt and shred the chicken into fine threads.
Cook the udon noodles according to the packet instructions and drain well. Transfer the noodles to a large platter and top with piles of the cabbage, cucumber, coriander, spring onions, shredded chicken, halved eggs and crushed peanuts.
Heat the peanut oil in a small frypan over medium heat and fry the garlic until it begins to brown. Add the chilli and continue to fry until the garlic and chilli are well toasted. Turn off the heat and add the sugar, fish sauce and lemon juice. Stir well and pour the hot dressing straight over the noodles and other ingredients. Toss to combine and serve.