For the menu below, use line-by-line navigation to access expanded sub-menus. The Tab key navigates through main menu items only.
Reporting to the Immunisation Section
SA Health requires the following to be reported to the Immunisation Section:
Vaccine reaction reporting: Adverse event following immunisation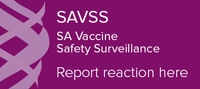 An adverse event following immunisation (AEFI) refers to any untoward medical occurrence that follows immunisation. Reporting an adverse event following immunisation is an essential part of supporting individuals who have been immunised and ensuring ongoing vaccine safety monitoring.
Vasovagal vs anaphylaxis reactions
Distinguishing vasovagal episodes from anaphylaxis reactions following immunisation.
Immunisation providers must be able to distinguish between a vasovagal episode (faint), convulsion and anaphylaxis.

Reporting an exposure to rabies or Australian bat lyssavirus
Information required with reporting an exposure to rabies or Australian bat lyssavirus is to develop a treatment plan for people who have come into contact with bats in Australia or overseas, and people who have come into contact with mammals (especially dogs, cats and monkeys) in a country where there is a risk of rabies virus exposure.
National reporting
Reporting to national immunisation register
The Australian Immunisation Register (AIR) records the details of vaccinations given to individuals of all ages. The AIR allows health professionals to view individuals' immunisation records and assess if they have received all the recommended vaccines for their age or health conditions.
For more information on the Australian Immunisation Register and immunisation records see Immunisation records and registers.