For the menu below, use line-by-line navigation to access expanded sub-menus. The Tab key navigates through main menu items only.
Overview about the agency (RMCLHN. Annual Report 2020-2021)
Our strategic focus
Our Purpose

Our people caring for our communities

We will work together to care for local communities. We will support people in the Riverland Mallee Coorong Local Health Network region to have the best possible quality of life, by providing high quality care that promotes dignity, respect, choice, independence and social connection.

Our Vision

Our Vision for our communities

Aged Care

We will support older people to have the best possible quality of life in a safe and home like environment, while providing high quality care that promotes dignity, respect, choice, independence and social connection.

Mental Health

We will support people in our communities to have the best possible quality of life by providing high quality care that promotes dignity, respect, choice, independence and social connection.

Community Health

We will support people in our communities to have the best possible quality of life in their own home, while providing high quality care that promotes dignity, respect, choice, independence and social connection.

Aboriginal Health

We will support Aboriginal people to have the best possible quality of life by providing high quality, culturally appropriate care that promotes dignity, respect, choice, independence and social connection.

Acute Care

We will support people in our communities to have the best possible quality of life by providing high quality care that promotes dignity, respect, choice, independence and social connection.

Our Values

'RMC CARES'

Respectful - We treat everyone as equals and value each other's sense of worth.

Motivated - We are driven to excel and provide the best quality care to our consumers and communities, when and where they need it.

Compassionate - We take care of others and act with kindness, empathy, patience and understanding.

Consumer Focussed - We partner and collaborate with our consumers, their families, carers and communities, to ensure the planning, delivery and evaluation of our health services is tailored to their needs.

Accountable - We are dedicated to fulfilling our duties and obligations as a public health service, and endeavour to act with honesty and integrity in all that we do.

Resourceful - We are agile, adaptable and able to deal skilfully, creatively and promptly with new situations and challenges.

Excellence - We will strive to continually improve and refine processes, exceed standards and expectations, and deliver access to high quality contemporary health care for people in our communities.

Service - We serve people and our communities courteously, fairly and effectively.

Our functions, objectives and deliverables

RMCLHN supports approximately 70,000 people living in the Riverland, and the Murray River, Lakes and Coorong areas of South Australia, extending east to the Victorian Border.

This includes the towns and surrounds of Renmark, Paringa, Berri, Barmera, Waikerie, Loxton, Pinnaroo, Lameroo, Karoonda, Mannum, Murray Bridge, Tailem Bend, Meningie, Tintinara and Coonalpyn.

Our wide range of health care services include:

accident and emergency
day and inpatient surgery
Aboriginal health
mental health
obstetric services
chemotherapy
renal dialysis services
community and allied health services
aged care services.

The key strategic themes for RMCLHN are:

Caring for our Communities
Excellence in Clinical Care
Local Governance
Investing in our People.

In RMCLHN we strive to:

Provide safe, high-quality health and aged care services.
Engage with the local community and local clinicians.
Ensure consumer care respects the ethnic, cultural and religious rights, views, values and expectations of all peoples.
Ensure the health needs of Aboriginal people are considered in all health plans, programs and models of care.
Meet all relevant legislation, regulations, Department for Health and Wellbeing policies, and agreements.
Our organisational structure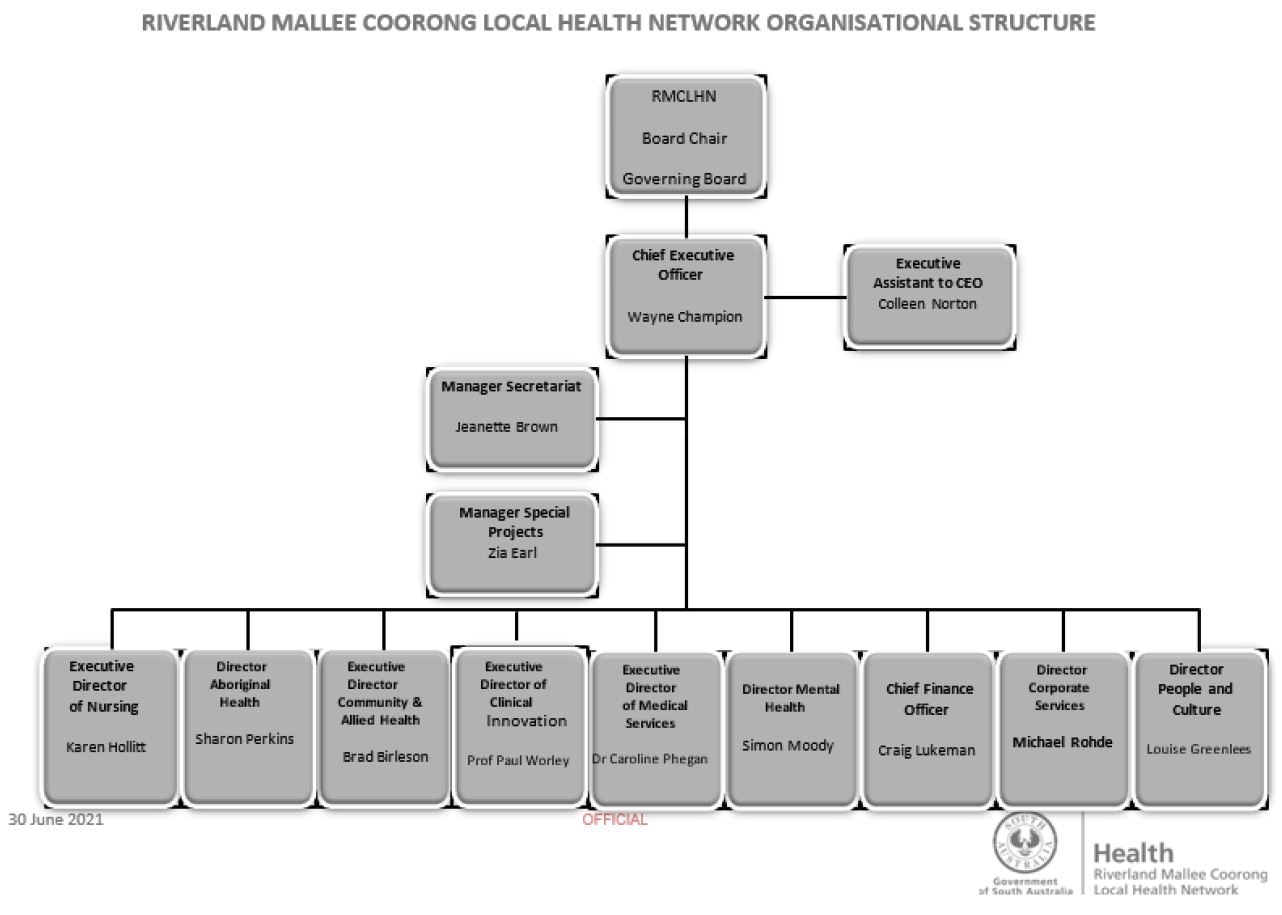 Changes to the agency
During 2020-21 there were no changes to the agency's structure and objectives as a result of internal reviews or machinery of government changes.
---
Our Minister
Hon Stephen Wade MLC is the Minister for Health and Wellbeing in South Australia.
The Minister oversees health, wellbeing, mental health, ageing well, substance abuse and suicide prevention.
---
Our Executive Team
As at 30 June 2021 the Executive team consisted of:
Chief Executive Officer – Wayne Champion
The CEO is accountable to the Governing Board for the provision, management and administration of health services and achieving the overall performance of the public health system for RMCLHN. The position manages operational planning, implementation, staffing, budgets and resources to ensure the provision of coordinated health services for the overall performance of the Network. The position provides operational leadership RMCLHN and is responsible for the sound governance and management of the Network.
Executive Director Nursing and Midwifery — Karen Holitt
The role provides professional nursing advice and has leadership of nursing across RMCLHN. The role provides strategic, transformational and innovative leadership, governance, and direction for the Network. The focus is to deliver the highest quality of care through the development and implementation of frameworks and systems within which Nursing and Midwifery employees practice. The focus is also on monitoring and evaluating clinical practice and service delivery standards. The position has responsibility and accountability for Quality and Safety, and Clinical Governance.
Executive Director Community and Allied Health – Brad Birleson
The role is responsible for the planning, development and management of Community Health Services (Country Health Connect), Allied Health and Sub Acute services across all areas of care. It is also responsible for the operational management of Commonwealth funded programs such as Aboriginal Primary Health services in the Riverland, Home Care Packages, the Community Home Support Program and NDIS programs.
Executive Director Medical Services – Dr Caroline Phegan
The role is responsible for medical standards, ethics and education and participates in the development of planning, policies and processes requiring broad medical advice and management. The position is responsible for assessment and evaluation of new services, procedures and interventions and provides medical consultancy advice. The role contributes to the overall management of research and ethics.
Executive Director Clinical Innovation – Professor Paul Worley
Professor Worley is a practicing rural generalist physician and came to this role having been Australia's inaugural National Rural Health Commissioner. The position is responsible for bringing the benefits of integrated training, research and advanced clinical care to the people in the region. The vehicle for doing this is RACE. The first step for the Academy is developing and implementing a Rural Generalist Training Program within RMCLHN including the establishment of a Trainee Medical Officer Unit. The position contributes to the implementation of the SA Rural Health Workforce Strategy across all domains. The position incorporates the role of Director of Research for the Local Health Network and promotes evidence based clinical practice throughout the Local Health Network and supports participation in relevant research projects. The position acts as the Chief Digital Medical Information Officer for the LHN and supports the adoption of new technologies in clinical care relevant to the LHN. The position works in partnership with universities, training organisations, research organisations and other partner organisations to support the achievement of RMCLHN's strategic objectives.
Director Mental Health – Simon Moody
The role has responsibility for the operational delivery, service planning, quality and safety of Mental Health Services in the LHN across the spectrum from community, ambulatory and inpatient services. The Director is responsible for the leadership and management of an effective, integrated mental health strategy and service plan which is responsive to the mental health reform agenda for rural South Australia.
Chief Finance Officer – Craig Lukeman
The role is the senior financial executive in RMCLHN, with responsibility for the provision of comprehensive financial services across the Network. The position contributes to the leadership, performance and strategic direction setting for RMCLHN to ensure the Network achieves its strategic performance targets as per the Health Performance Agreement with the Department for Health and Wellbeing.
Director Corporate Services – Michael Rohde
The role ensures performance, strategic leadership and management of RMCLHN contracts, health intelligence services and the development of Service Level Agreements for the provision of services provided by other agencies for procurement and ICT functions. The position ensures strategic and commercial review of key service contracts across the Network and ensures major contracts are successfully operationalised and performance reviewed along with ensuring effective operation of corporate governance activities including internal audit, business continuity, planning and compliance.
Director Aboriginal Health – Sharon Perkins
The role is responsible for initiating, planning, implementing, coordinating and delivering Aboriginal Health programs across RMCLHN and providing high-level strategic leadership in expanding concepts and programs throughout. The position is required to provide expert analysis of diverse data sources and undertake research in order to develop policies, plans, structures and projects that impact on service delivery. The position is responsible for ensuring appropriate models of community and stakeholder consultation are developed to further improve health outcomes.
Director People and Culture – Louise Greenlees
The role is responsible for leading and managing the delivery of best practice human resources services, implementing proactive workforce strategies and interventions to drive continuous improvement, performance and accountability and a culture that assures the achievement of the organisational workforce goals and objectives. The position is responsible for maintaining a strategic focus whilst demonstrating strong leadership and providing expert professional advice to leadership and senior management on human resource trends and risks, and support on complex matters.
Manager Secretariat – Jeanette Brown
The role is accountable for the provision of high quality and timely support to the CEO and executive support to the RMCLHN Governing Board and its committees. The position is also responsible for the delivery of Office of the CEO functions including project management, ministerials, performance analysis, communications and Freedom of Information.
Senior Allied Health Advisor – Ruth Adamson
The role provides clinical input to RMCLHN through participation in key leadership and governance groups. The primary role is to provide advice and support to ensure that allied health clinical requirements are considered in all aspects of the Network's governance.
Quality, Risk and Safety Manager – Anne McKinlay
The role is responsible for providing strategic leadership, implementation, monitoring and evaluation of the Quality, Risk and Safety management systems. The position actively promotes and encourages quality principles across RMCLHN that foster a culture of continuous quality improvement and service excellence linked to strategic, operational and departmental specific plans.
Manager Special Projects – Zia Earl
The role is responsible for significant and complex projects that support RMCLHN's strategies, including project management, change management, planning, project development, and management, coordination and evaluation for significant planning initiatives. It provides advice and consultancy services related to statewide projects and operational issues that impact regional South Australia. The position is responsible for the development of strategic plans and projects that contribute to the overall efficiency, effectiveness and improvement of business processes, systems and information technology operations within the Network.
---
Our Governing Board
Dr Peter Joyner OAM (Chair)
Dr Peter Joyner is a General Practitioner in Mannum where he started in 1976, providing GP services as well as anaesthetic, surgical and obstetric services. In 2007, Country Health SA brought in active GPs into its administration and Peter was appointed as the first GP Consultant covering the area of Emergency Medicine. In 2009, he became the first GP employed by, and became Director Emergency Services for, Country Health SA Local Health Network (CHSA). He retired from this position in 2017 to free up his total medical time. Since 2009, Peter has been the Chair of the Adelaide to Outback General Practice (AOGP).
Elaine Ashworth (member)
Elaine Ashworth is a resident of Berri and her background is in physiotherapy. She has spent many years working in a range of clinical and management positions in Victoria, Tasmania, Queensland, the Northern Territory, South Australia and the United Kingdom. Most of this time has been spent in rural and remote health management. She retired from the position of Principal Allied Health Advisor for CHSA in 2015 and since then has enjoyed a good balance of recreation and freelance projects, consultancy and locum work.
Claudia Goldsmith (member)
Claudia Goldsmith has a career based on a mix of non-executive director board positions and management consultancy, focussing on financial management, governance reviews and risk identification and management. She has qualifications in social sciences and accounting, is a Certified Practicing Accountant and a Graduate of the Australian Institute of Company Directors. Claudia is a resident of Port Elliot and brings finance and governance experience to the Board.
Shane Mohor (member)
Shane Mohor is Chief Executive Officer of the Aboriginal Health Council of SA. He has worked in Aboriginal health as a Registered Nurse (including remote Kimberley work, hospital and forensic health), as a Senior Executive in government, university and non-government organisations for over 25 years in South Australia and interstate. Shane is passionate about working in the Aboriginal Community Controlled health sector and is committed to improving the health and wellbeing of Aboriginal people, including the advancement of employment for Aboriginal people.
Melanie Ottaway (member)
Melanie Ottaway is an experienced Executive Manager with a demonstrated history of working in the not-for-profit sector. Her current position is Executive Manager Aged Care for Uniting Communities. Skilled in negotiation, not-for-profit organisations, operations management, coaching, and quality management, Melanie brings strong aged and community care experience. Melanie is a Registered Nurse and holds a Master of Nursing and a Master of Business Administration. Melanie resides in the Adelaide Hills and is passionate about the future of health services and ensuring a high standard of care is delivered to rural communities.
Fred Toogood (member)
Fred Toogood is a former small business owner and is an elected member of the Rural City of Murray Bridge. Fred has served on the Audit Committee, Safe Taskforce and Strategic Planning and Policy Committee of the Rural City of Murray Bridge Council. Murray Bridge has been his family home for over 60 years and he conducted a small business in Murray Bridge over a period of 42 years. His community work has included 31 years on the Murray Bridge Hospital Board, Member of the Hills Mallee Southern Regional Health Board, President of Mobilong Rotary and Member of the Chamber of Commerce. Fred has also been on the Risk and Audit committee of the Council. Fred has strong community connections and previous health governance experience.
---
Legislation administered by the agency

Nil
---
Legislation administered by the agency

Department for Health and Wellbeing
Barossa Hills Fleurieu Local Health Network Inc
Central Adelaide Local Health Network Inc
Eyre and Far North Local Health Network Inc
Flinders and Upper North Local Health Network Inc
Limestone Coast Local Health Network Inc
Northern Adelaide Local Health Network Inc
Southern Adelaide Local Health Network Inc
Women's and Children's Health Network Inc
Yorke and Northern Local Health Network Inc
South Australian Ambulance Service