Breadcrumbs
Tobacco signage
Note that, from 31 March 2019, changes to the Tobacco Products Regulation Act 1997 will commence. For more information go to the Smoking, the rules and regulations page.
To ensure that no smoking areas are clearly identified, a range of 'No Smoking' signage is available free of charge to retailers, workplaces and organisations. The signage is provided to assist in protecting the health of workers and the public by minimising unwanted exposure to second hand smoke.
From 31 March 2019, electronic cigarette (e-cigarette) use will also be banned in all existing no smoking areas. Existing 'No Smoking' signs do not need to be replaced. Separate e-cigarette signs are not required as 'No Smoking' signs are adequate to inform that e-cigarettes can not be used in the area.

Ordering signage
To order the legally required signage or no smoking signage, complete the below forms and forward it to:
Fax: (08) 8234 0988
Email: HealthProtectionOperations@purchasepoint.com.au
Post: Health Protection Operations, PO Box 101, Highbury SA 5059
No smoking signage form (PDF 388KB)
Tobacco retailer resource order form (PDF 188KB)
All signage displayed below is free of charge
Further information
For further information on the tobacco laws, contact Health Protection Operations, SA Health by:
No smoking signage
Stickers with government branding
20cm x 14.8cm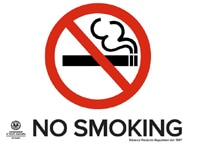 Stickers for dining areas
20cm x 14.8cm
Stickers without government branding
10.5cm x 7.5cm
Counter signs
18.5cm x 5cm plastic A-frame
Large sign
90cm x 30cm corflute sign