Breadcrumbs
Lead paint and your health
It is important to be aware which areas of your house may have been painted with lead-based paint (PDF 1033KB). Lead aware practices must be followed when renovating, restoring or repainting or you could be putting your health and the health of your family at risk. See the Lead page for information on the effects lead can have on your health.
Before 1970, paint used in many Australian houses contained high levels of lead because lead is an effective colour pigment and it makes paint tough and durable. In 1969, the Australian Uniform Paint Standard was amended to reduce the amount of lead in domestic paint from the previously recommended level of 50% to 1%. The maximum content was further reduced to 0.25% in 1992 and to the current level of 0.1% in 1997.
You should assume all houses contain lead-based paints if they were built:
prior to the mid-1970s
up to the 1940's it is especially hazardous because there was so much lead used in paints at that time
after the mid-1970s can still be a risk if old house paint, industrial or marine paint has been used.
If you suspect paint in your home might contain lead but you have not had it tested, assume it does and take precautions.
Amendments to the Controlled Substances (Poisons) Regulations 2011 came into operation on 1 April 2017. These amendments include the introduction of penalties that bring into effect national controls over the content of paints in South Australia. The national Uniform Paint Standard restricts the proportions of the most toxic poisons in paint such as lead and cadmium.
The law limits the proportion of lead permissible in paint sold in South Australia to 0.1%. The health department can now take regulatory action and potentially prosecution if breaches are made by paint and tinter manufacturers, wholesalers or retailers.
It is not possible to know if paint has lead in it by its appearance alone. Lead-based paint can be found throughout the inside and outside of homes and buildings. Lead may be present in both topcoats and undercoats and particularly on surfaces like:
exterior walls, doors and windows
gutters, pipes and fittings
interior walls, skirting boards and fittings
ceiling spaces, wall cavities, under floors, in carpets due and in the soil due to lead dust and paint flakes from previous renovations.
In the past, lead-based paint has also been used on:
cars and boats
old furniture, including baby cots and garden chairs and benches
children's toys, particularly old inherited toys, collectible lead soldiers or those bought from markets, garage sales or overseas
artist or hobby paints
Lead aware practices need to be taken if any of these items are restored, renovated or used by young children.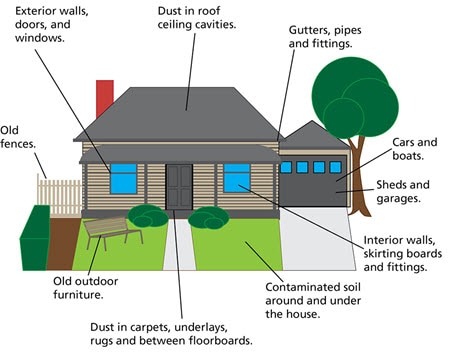 Lead from paint can enter the body by breathing in fumes and small particles or by swallowing paint flakes or dust. Lead-based paint becomes a problem when it deteriorates or is damaged or disturbed, when it can be a significant health hazard. See the Lead page for more information on the health effects of lead.
It is important to remember there is no 'safe' level of lead exposure. All exposure to lead should be reduced or prevented to keep blood lead levels as low as possible. Children and pregnant women are at most risk from lead.
If you are worried that you or your family have been exposed to lead it is important to see your doctor and ask to have a blood lead test.
If you are renting a privately-owned house and you are concerned about the condition or type of paint in your home you should contact your property owner or agent. If you need further assistance, contact:
For further information on lead, including lead paint contact SA Health's Scientific Services on (08) 8226 7100.