Noarlunga Hospital
Noarlunga Hospital provides a range of inpatient, ambulatory and outpatient services to communities in the south.
24/7 Community Emergency Department
An Emergency Extended Care Unit
A focus on short stay, lower acuity elective surgery and procedural activity including colonoscopy and endoscopy services
Dialysis Services
Inpatient Geriatric Evaluation and Management beds (GEM)
Highly specialised inpatient and outpatient Dementia support services
Inpatient Mental Health facilities
The broader precinct provides a range of Women's and Children's services, infusion services and ambulatory services; many with a focus on chronic disease management.
General Information
Address
Alexander Kelly Drive, Noarlunga Centre SA
New service enabling acute medical patients to be admitted to the Noarlunga Hospital.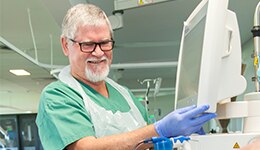 Career and training information for Noarlunga Hospital
Is it really an emergency? Consider the best health care option for you before visiting an Emergency Department.