Breadcrumbs
Penola War Memorial Hospital
For all enquiries: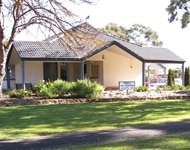 Telephone: (08) 8737 2311
Fax: (08) 8737 2505
For all emergencies phone 000
Street address:
18 Church Street Penola South Australia
Postal address:
18 Church Street Penola SA 5277
Email: HEALTHCHSAPenolaHospital@sa.gov.au
The Penola War Memorial Hospital is part of the Limestone Coast Local Health Network. Our hospital offers a 24-hour accident and emergency service, six beds for medical, post surgical, convalescent, rehabilitation, palliative care and Transitional Care Packages. The hospital also manages the Penola Medical Clinic, community nursing and in-home support programs. Services for outpatients include medical, nursing and allied health services.
Accident and emergency
A 24-hour accident and emergency service is staffed by a doctor from the co-located medical practice.
When you arrive at accident and emergency, you will be seen by the duty nurse to collect information and assess your illness or injury. This process will help determine what treatment you may need. There is a doctor on call, if required.
In a medical emergency, it is important that you do not 'self present' to hospital. SA Ambulance Service emergency medical dispatch support officers can provide advanced first-aid advice over the phone while an ambulance is on its way to you.
Visiting hours
Visiting hours are negotiable so please ask nursing staff.
Car parking
There is disabled parking onsite.
Disabled access
The building is wheelchair accessible and there are toilets for people with disability. Please ask at Reception.