Breadcrumbs
Mount Gambier and Districts Health Service
For all enquiries: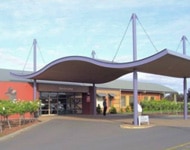 Telephone:
Public patients: (08) 8721 1200
Private patients: (08) 8721 1412
Fax: (08) 8721 1579
For all emergencies phone 000
Street address:
276-300 Wehl Street North, Mount Gambier South Australia
Postal address:
PO Box 267 Mount Gambier SA 5290
Email: CHSAMtGambierHospitalAdministrationReception@health.sa.gov.au
Mount Gambier and Districts Health Service is part of the Limestone Coast Local Health Network. We provide acute services ranging from in-hospital care by local general practitioners to specialist surgical, obstetric, paediatric and anaesthetic services delivered by medical consultants.
The COVID-19 Clinic at Mount Gambier and Districts Health Service is located at a separate transportable on the left-hand side of the Emergency Department. Follow the road signs and enter via the Wehl Street entrance. The clinic operates 7 days a week, 12:00 pm to 8:00 pm
SA Health's electronic medical record - Sunrise EMR & PAS
The electronic medical record (EMR) used in South Australia is called Sunrise EMR & PAS. It is a state-based electronic medical record that replaces the need for paper-based documentation and provides a consistent and complete electronic medical record for patients across SA Health hospitals and health services where it has been activated.
Clinicians at Mount Gambier and Districts Health Service use the EMR to document all aspects of patient care. For more information about the EMR and training requirements for clinicians, visit the SA Health website at www.sahealth.sa.gov.au/sunrise. ​
Accident and emergency
When you arrive at the Mount Gambier and Districts Health Service accident and emergency, you will be seen by the resident medical officer to collect information and assess your illness or injury.
It is important that in a medical emergency, you do not 'self present' to hospital. SA Ambulance Service emergency medical dispatch support officers can provide advanced first-aid advice over the phone while an ambulance is on its way to you.
Cost for this service is according to health insurance status. Public patients are free.
Visiting hours
Visiting hours are:
General wards: 11.00 am to 8.00 pm.
Maternity ward: 2.00 pm to 8.00 pm.
Any visitors who will be in the hospital building between 8.30 pm and 6.30 am will need to obtain an identity badge at the admissions desk.
Patient entertainment
Bedside computers have now been installed and are fully operational for patient entertainment in 12 hospitals including the Mount Gambier District Health Service.
The bedside entertainment services are provided by Telstra and give patients access to a number of different entertainment options on a pre-paid basis.
For information on the bedside entertainment package options please go to our bedside entertainment page.
Car parking
Parking is available at the front of the hospital. Additional spaces are available on Allison Street with a pathway leading to the buildings.
Disabled access
The building is wheelchair accessible and there are toilets for people with disability. Please ask at Reception.