Breadcrumbs
Keith Community Health
For all enquiries: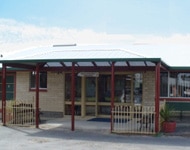 Telephone: (08) 8755 3122
Fax: (08) 8755 3123
For all emergencies phone 000
Street address:
27 Hill Avenue Keith South Australia
Postal address:
27 Hill Avenue Keith SA 5267
Keith Community Health is part of South East Regional Community Health Service (SERCHS). SERCHS provides quality, community-based health services across the South East Region of South Australia.
Accident and emergency
24 hour accident and emergency service is provided by the Keith and District Hospital, the hospital is an accredited community owned facility and is located next door to the Keith Community Health Centre.
When you arrive at accident and emergency, you will be seen by the duty nurse to collect information and assess your illness or injury.
In a medical emergency, it is important that you do not 'self present' to hospital. SA Ambulance Service emergency medical dispatch support officers can provide advanced first-aid advice over the phone while an ambulance is on its way to you.
Services
Services available at Keith Community Health include:
Aboriginal health including home support
Aged Care Assessment Team including generalist and specialist
allied health including dietetics, occupational therapy, physiotherapy, podiatry, social work and speech pathology
Better Care in the Community including cardiac and respiratory support services
Home and Community Care (HACC) including a range of personal and domestic support services, generalist and specialist
community nursing providing a range of services including, immunisations, wound and burns care, home medication administration, cancer care services, diabetes education services, continence services and community midwifery and women's health
restorative care including geriatric services, palliative care and rehabilitation.
Please note, not all services are listed. Contact us for more information.
Opening hours
Open hours: Monday to Thursday, 9.00 am to 3.00 pm
Hours of service: Monday to Thursday, 9.00 am to 5.00 pm
Car parking
Car parking is available onsite.
Disabled access
There is no allocated disabled car parking but suitable car parking is available onsite. The building is wheelchair accessible and includes disabled toilet facilities.