Breadcrumbs
Emergency ambulance services
In an emergency, always call 000 for expert medical assistance.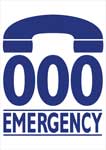 SA Ambulance Service (SAAS) is the provider of emergency ambulance services in South Australia.
Our team of more than 2700 career and volunteer staff is dedicated to providing South Australians with the highest level of emergency medical care.
We provide out-of-hospital emergency patient care and transport as well as a non-emergency patient transport service.
We also manage ambulance support at emergency and major public events and coordinate rescue operations in partnership with other health and emergency services.
Annual Report 2017-18
Related information