Breadcrumbs
Mental Health First Aid training course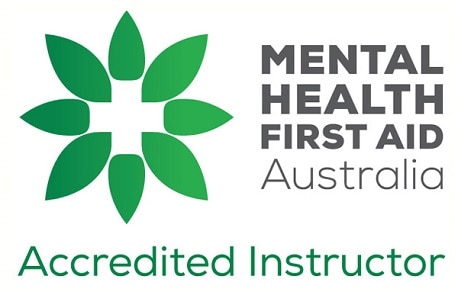 Whilst people often know a lot about common physical health problems, there is widespread ignorance of mental health. Regular first aid courses are recognised as improving the public's skills in giving initial and appropriate help at medical emergencies but, unfortunately, most of these courses do not address helping with mental health problems.
However, mental health problems are common. In Australia, approximately one in five adults will experience mental illness in any given year. In light of this, all members of the community can expect to have close contact with someone experiencing a mental illness.
Lack of knowledge and stigmatising attitudes about mental illness may prevent people from seeking help early, seeking the best sort of help and also providing appropriate support to colleagues and family members, simply because they do not know how.
The 12-hour Mental Health First Aid course teaches adults (18 years and over) how to provide initial support to adults who are developing a mental illness or experiencing a mental health crisis.
Continuing Professional Development (CPD) points
Most professionals can claim attendance at a Mental Health First Aid course for CPD with their industry body.
What the course covers
Course participants learn about the signs and symptoms of the common and disabling mental health problems, how to provide initial help, where and how to get professional help, what sort of help has been shown by research to be effective, and how to provide first aid in a crisis situation.
Topics covered
Topics covered include:
depression
anxiety problems
psychosis
substance use problems
Mental health crisis situations covered
Mental health crisis situations covered include:
suicidal thoughts and behaviours
non-suicidal self-injury
panic attacks
traumatic events
severe effects of drug or alcohol use
severe psychotic states
aggressive behaviours
Course format
This is a 12 hour course over 2 days (6 hours per day)
Who can attend a course
This 2-day workshop is best suited clinical staff working outside of the mental health sector or anyone with limited mental health knowledge. Participants must attend both days of this workshop.
Please note this course is not a therapy or support group, rather it is an education course to learn how to give first aid to others. Any interested adult can attend.
Cost of course
See the registration form (PDF 119KB) for the cost.
Finding a course
View the training calendar for applicable dates.
Register for a program
To register for the course, complete the registration form (PDF 119KB) and and forward to mhlearning@health.sa.gov.au