Volunteering with comfort and care
05 May 2022
Since 2017 Carol has been volunteering with the Northern Healthcare Volunteer Association (formerly the Lyell McEwin Volunteer Association) as a way to give back following ongoing treatment and surgery for arthritis in her wrist at Modbury and Lyell McEwin Hospital (LMH).

According to Carol it was the happy smiling faces of two volunteers she regularly encountered at LMH's orthopaedic ward, along with the orange shirts (her favourite colour) that saw her pursue volunteering at the hospital.

"Following my final appointment at LMH I went straight to the volunteer officer and put my hand up to volunteer," said Carol.

Initially appointed to the Special Care Nursery (SCN) at LMH to support with administrative tasks, Carol joined a new volunteer service on the ward known as the Comfort Care program shortly after.

"My role is to provide comfort and care to the babies and families of our SCN. I am here to settle babies when they are unsettled or begin preparing them for their feed."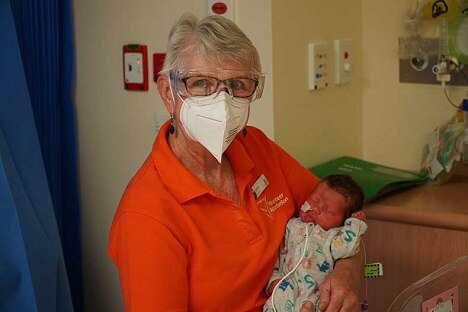 Baby Santina was born at 33 weeks and one day, here he is with Carol at one week old.

"Families aren't always able to be in the SCN as much as they would like, with other children at home and work commitments. My role is to comfort and settle their babies when they can't be here and offer an ear for them to talk to during what can be a difficult time."

By having volunteers like Carol support our SCN it provides more time for our nursing and midwifery staff to focus on medical tasks that support babies in the nursery.

According to Monica, Midwifery Unit Manager of the SCN the volunteers receive additional education and training are an integral part of our health care team.

"Human touch, speech and interaction have been proven to have a positive impact on babies neurological development," said Monica.

"Our comfort carers provide the crucial interaction when the families are unable to be present in the SCN."

"It is lovely to walk around the unit and see a Comfort Carer reading or softly singing to the babies, and you can see that they get as much out of the time as the babies."

Carol witnesses the struggles many families encounter being separated from their newborn baby; she takes great pride in being able to support those families and care for their precious babies when they can't be there.

As someone who loves babies, volunteering in the Special Care Nursery is a dream volunteer position for Carol.

"When I tell people I volunteer cuddling newborn babies, they always say I would love to do that!"

Carol volunteers in the SCN once a week from 4-8pm, allowing her time to pursue her other passions such as line dancing and going for 10-12kms walks with her husband and walking group.

Since 1959 volunteers have supported the LMH hospital; currently over 215 volunteers deliver a diverse range of services across the entire Northern Adelaide Local Health Network (NALHN).
There are a range of volunteering roles available, with flexible hours to suit your life. Visit the Northern Healthcare Volunteer Association (https://www.lyellmcewinvolunteer.org.au) to learn more about volunteering opportunities.