Towards Zero Suicide – a new hope for those at risk
14 October 2022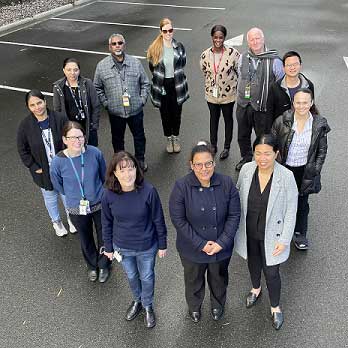 A new structured approach to tackling suicide will be put into place by NALHN's Division of Mental Health in the coming months.
"Toward Zero Suicide (TZS) is an emerging worldwide transformative approach to addressing suicide both in our healthcare services and the broader community," says Project Lead Northern Community
Mental Health Sarah Burden.
Working alongside existing suicide programs, TZS aims for a shift of mindset from passive acceptance to active prevention using a combination of practice, service delivery, consumer engagement and organisational change activities that together create greater suicide prevention effectiveness.
"We were approached by the Office of the Chief Psychiatrist about implementing the Towards Zero Suicide program earlier this year, and we could immediately see the benefits it would have across our service," says A/Director Allied Health & Community Mental Health Directorate Shaun Sweeney.
"A suicide event has far-reaching effects for all those connected, including family, friends, health care workers and beyond. TZS acknowledges these effects across the community – and provides a framework where that community network becomes the key to identifying suicide risks early, so preventative strategies and supports can be provided earlier and more effectively," says Shaun.
"The TZS framework focusses on seven key steps. The first and perhaps most important step is to instill the belief that suicide can be prevented," says Sarah.
"Building organisational capability is key to the success, as is the development of an individual care pathway that begins with developing a centralised, consistent and systematic identification of suicide risks, and how these are addressed," she says.
NALHN's Mental Health Services implementation group will undertake training in TZS prior to undertaking a review of what will be required to align our service with the TZS framework.
TZS is a key initiative of the South Australian Mental Health Services Plan 2020-2025. The plan has set a target to reduce suicides within care by 50% by 2025.
If you or someone you know is in crisis and needs help now call triple zero (000). You can also call Mental Health Triage: 131 465 or Lifeline on 13 11 14.
(Image: Sarah Burden (front left) with colleagues from the Division of Mental Health forming a 'zero')