Surgical care extends to Port Pirie
18 July 2022
In September 2021 the Northern Adelaide Local Health Network (NALHN) launched a surgical outreach partnership with the Yorke and Northern Local Health Network (YNLHN) to provide greater access to surgical services for local community members at the Port Pirie Regional Health Service.
Dr Nigel Da Silva (pictured), Colorectal and General Surgeon, is one of four surgical consultants from NALHN's Lyell McEwin Hospital providing face-to-face consultations and surgical lists once a week on a rotating basis, with the support of a surgical registrar, at the Port Pirie Hospital.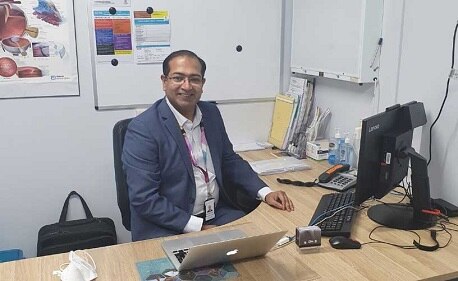 According to Dr Nigel Da Silva the benefits of the partnership are immense.

"We have been able to provide timely care to people in their own community, eliminating the need to travel to the Lyell McEwin Hospital for their outpatient appointment and peri-operative care," he said. "The majority of operations performed are either day cases or 24-hour admissions, this being a significant benefit."
Surgical consultants can escalate community members who require specialised surgical care to the Lyell McEwin Hospital, ensuring they receive continuity of care from the moment they are admitted to the Port Pirie Regional Health Service, right through to Lyell McEwin Hospital. Where possible they will attend follow-up appointments at Port Pirie Regional Health Service.
"Through this service we have been able to identify pathologies like bowel cancer," said Dr Da Silva. "We have been able to escalate their care to Lyell McEwin Hospital, with chemotherapy undertaken back home in Port Pirie."
With high demand for surgical services in the Port Pirie region, Dr Viney Joshi, YNLHN Executive Director Medical Services, was keen to see the partnership with NALHN established so the local community can receive the treatment they need, closer to home.
"Not only have we seen greater outcomes for our community, but the partnership also provides junior doctors with a taste of regional hospitals and further increases their operative and clinical exposure," said Dr Joshi.
"The very first intern who was placed within the service is looking at doing their ongoing training with us. This is a massive win for YNLHN, and something that may not have occurred without this partnership."
Dr Xuanyu 'Swen' Zhou, General Surgery Registrar supports NALHN's surgical consultants at the clinic. Dr Zhou works alongside Dr Greg Otto, Head of Unit - General Surgery, Lyell McEwin Hospital, Dr Izhar Haque, Hepatobiliary and General Surgeon, Dr Anand 'Arnie' Nathan, Breast, Endocrine and General Surgeon, and Dr Da Silva.
As the partnership progresses YNLHN has further invested in equipment to support the outreach surgical service, expanding the scope of practice available to NALHN's consultants at the clinic and therefore treatment available to community.
It has also provided the framework for NALHN and YNLHN to explore other partnerships opportunities, with the launch of a geriatric model of care in May.
For Dr Da Silva one of the highlights of being involved in this service is supporting patients who previously would have rather leave their health conditions untreated then travel to Adelaide.
"We have managed quite a few patients who previously weren't willing to travel to Lyell McEwin Hospital. Thanks to this new partnership we have been able to ensure continuity of care including timely access to other specialist at the Lyell McEwin Hospital)," said Dr Da Silva.
Outpatient consultations occur every Thursday, and surgeries are performed each Wednesday. Patients can speak with their local General Practitioner to organise a referral as a public or private patient.