New study brings artificial intelligence to SA Emergency Departments
21 October 2022
Northern Adelaide Local Health Network (NALHN) has joined an exciting new clinical trial that will investigate the merits of using Artificial Intelligence (AI) within Emergency Departments (EDs) to support the assessment and management of patients with suspected cardiac chest pain.
Led by Professor Derek Chew from Flinders University, the study will enrol a total of 9,600 participants across 12 South Australian metropolitan and rural hospitals, including Lyell McEwin and Modbury Hospitals.
Suspected cardiac chest pain is the second most common reason for ED presentations nationally every year* and accounts for approximately ten per cent of all ED presentations at NALHN.
This clinical trial aims to investigate whether patient outcomes can be improved (through a reduction in deaths, subsequent heart attacks, and re-admissions) by using AI-based decision support embedded within routine clinical assessment. The study will also evaluate the cost-effectiveness of implementing AI-based decision support within EDs as an ongoing clinical support tool.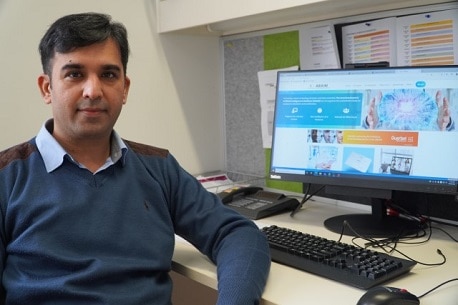 ED Consultant, Dr Muhammad Abid, who is based at Modbury Hospital and currently undertaking a fellowship with the American Board of AI in Medicine, will be leading this collaborative research project across NALHN.
"Artificial Intelligence in health is growing in momentum globally," said Dr Abid.
"With the introduction of electronic patient administration and medical records, there is an enormous volume of data in our health systems. AI enables us to use this health data in ways to improve health outcomes for our consumers, which is incredibly exciting."
Funded by the National Health and Medical Research Council (Australian Government), this clinical trial is set to commence in the next four months, with all participants to be followed up for a period of 12 months following their initial ED presentation.
NALHN's Divisional Director of Critical Care, Dr Penny Conor is looking forward to seeing the results of this important study.
"We are very proud to be participating in this innovative research study, the first of its kind in Australia," said Dr Conor.
"While I don't think AI can ever replace clinicians, its use represents a significant opportunity to support our clinical decision-making and enable us to consistently deliver high-quality evidence-base care in a standardised way."
*aihw.gov.au/reports-data/myhospitals/sectors/emergencydepartment-care