New digital pregnancy platform is POPN
06 May 2022
Leanna (pictured) is one of 1,350 users who are benefiting from a new online platform that is being trialled at the Northern Adelaide Local Health Network (NALHN) supporting pregnant women navigate their pregnancy and care.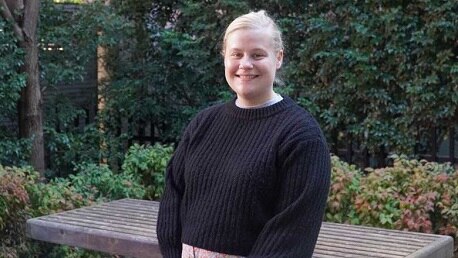 Having already given birth twice with NALHN's antenatal service located at Lyell McEwin Hospital, Leanna is excited to be involved in the trial which is a first for the State.
According to Leanna at 16 weeks' gestation she is already experiencing the benefits of the Pregnancy Online Platform NALHN (POPN).
"POPN collates your previous pregnancy and medical history," said Leanna. "A midwife reviews this information prior to your first appointment, so your care is tailored to your history."
"Because of this, I received a notification on POPN to request a referral to have a diabetes test from my general practitioner due to my family history."
Previously Leanna wouldn't have been referred to receive this test until after her first antenatal appointment. Thanks to POPN she can receive earlier screening for gestational diabetes and if necessary, begin developing a management plan with her healthcare team.
All people receiving antenatal care through NALHN are invited to join POPN via a text or email message. Once registered, they are invited to complete their medical and obstetric history which a midwife will review prior to their first appointment, providing more time to focus on their personalised antenatal care and ask questions.
For Amy who is in her first pregnancy, she has found the information and updates provided through POPN useful.
"Your first pregnancy is so overwhelming, so being able to receive information on the type of care I will receive and general information on common symptoms and experiences in pregnancy was really useful," said Amy.
"I was able to read through this information at my own time and go back to it when needed. Importantly for me, I was able to digest this information in my own time and attend my first antenatal appointment with prepared questions for my midwife."
POPN shares personalised information and updates to parents-to-be, as their pregnancy progresses, with text message alerts sent when new information becomes available. These resources are stored in the system, so the individual can access them at any time.
NALHN is the first health services in the State to trial the new portal. Feedback from users so far has been overwhelmingly positive according to Julia Dalton PhD, Midwifery Lead for POPN.
"91% of users who have previously given birth with NALHN consider POPN to be the same, if not much easier than their previous triage experience," said Dr Dalton.
"The platform also allows our midwives to assign patients to an appointment in a timelier way, meaning midwives can review the information provided, and where necessary book patients into obstetric appointments, allowing women to be seen earlier in their pregnancy than they otherwise would."
POPN supports NALHN provide the best possible care to expectant parents and their families. This includes providing them with timely and accurate information to facilitate their involvement in the entire pregnancy process.
*Data accurate as of 7 April 2022.
Please note Leanna is employed by the Northern Adelaide Local Health Network's (NALHN) Surgical Specialties and Anaesthetics Division and Amy is employed by NALHN's Strategy and Innovation Directorate.