Bigger and better for Modbury's new unit
17 March 2022
Modbury Hospital's new Short Stay General Medical Unit (SSGMU) opened its doors in February to its very first patients, marking another major milestone in Modbury Hospital's redevelopment.
Staff were elated to finally move into the much larger space offering 22 individual private rooms with ensuites, a four-bed bay, and a plethora of new state-of-the-art equipment.
Nurse Unit Manager, Callum McCabe (pictured, second from right) has relished in the opportunity to get the new facility patient-ready alongside his capable team who were all excited to settle into their new surroundings.
"On first impression, the size of the facility is impressive. It has high ceilings, large corridors, and large rooms allowing plenty of space for patients and staff," said Callum.
"The other feature that really stands out is the colours and wall art which is lovely and really helps to create a calming environment. This is important as many patients are coming to us from the Emergency Department which is often hectic."
"On the practical side, the patient rooms are nice and big with good access and great facilities to support us mobilise and monitor patients. There is also an abundance of storage which means things can be tucked away, organised and easily cleaned."
"The new SSGMU was purposefully designed to be located adjacent to the Extended Emergency Care Unit and the Emergency Department to allow all three clinical areas to work seamlessly together," said Divisional Director Medicine, Dr Tony Elias.
"The new facility aims to reduce the time patients spend in the Emergency Department and negate the need for transfers to the Lyell McEwin Hospital, ensuring our community can get the treatment they need, closer to home."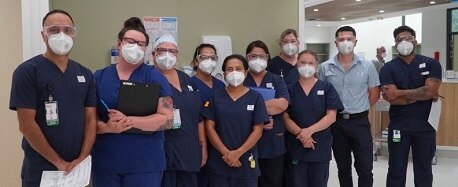 Caption: Staff gather for their daily huddle at Modbury Hospital's new Short Stay General Medical Unit.