A Remarkable Team
05 May 2022
Dr Lawrie Palmer reflects on 16 years of palliative care progress
Palliative care in northern Adelaide has undergone significant positive change over the last 16 years under the guidance and leadership of Dr Lawrie Palmer.
As the former Medical Head of Unit Modbury Palliative Care and then the Northern Adelaide Palliative Service (NAPS), Dr Palmer has focussed on establishing a workplace culture that values and supports patients and families. With National Palliative Care Week approaching (22 – 28 May) we asked him to reflect on some of the achievements of the team over this time.
"What the team has achieved over these years is nothing short of remarkable," said Dr Palmer.
The aim has been to emphasise patient care through team development and encouragement in a way that aligns very much with our values of everyone matters, contributes, grows and has opportunity to live and share their story."
Bringing Lyell McEwin and Modbury hospital palliative care teams together to form NAPS in 2013 with a new shared identity, was a key step in this service building approach.
The service has expanded in inpatient, acute hospital, community and country support areas allowing for smooth transitions of patient care with NALHN.
"We have a geographic area of 450,000 people, and our service cares for up to 450 people at any one time, catering for community, residential and hospital care. What we've been able to do over time is to use grants to support and trial new team members specialising in areas such as dietetics and art therapy, adding a richness to patient care far beyond biomedical symptom management," said Dr Palmer.
"Your people are always your greatest asset, and we've been able to create opportunities for staff to shine, for example creating a clinical medical research position with Professor Greg Crawford providing world leading research, and the development of a more comprehensive seven day a week service."
The results have been outstanding, with reduced occupied bed days and improved the care of patients and their families in the community, residential care and broader hospital.
With the successful opening of the new Modbury Palliative Care Unit, Dr Palmer has stepped down as Head of Unit, taking the opportunity to continue his primary care for patients as Palliative Medicine Specialist: Senior Consultant.
Dr David Holden has been successful in the appointment as Medical Head of Unit, while Kerri Grant continues to provide senior nursing leadership as Advanced Nurse Unit Manager. Both David and Kerri will continue to lead NAPS, promoting best practice in palliative care.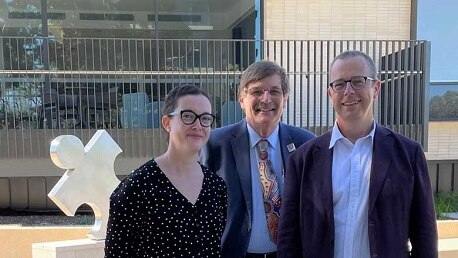 (L-R) Advanced Nurse Unit Manager Kerri Grant, Palliative Medicine Specialist: Senior Consultant Dr Lawrie Palmer and Medical Head of Unit Dr David Holden in front of the new Modbury Palliative Care Unit.