For the menu below, use line-by-line navigation to access expanded sub-menus. The Tab key navigates through main menu items only.
Noarlunga GP Plus Super Clinic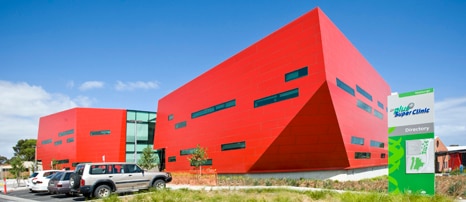 For all enquiries:
Telephone: (08) 8164 9111
Fax: (08) 8164 9199
Location: Alexander Kelly Drive, Noarlunga Centre, South Australia
Map: Noarlunga GP Plus Super clinic location map (PDF 192KB)
GP Plus Super Clinic Noarlunga is a joint initiative of the Government of South Australia and the Australian Government. GP Plus Super Clinic Noarlunga offers a broad range of health care services in the community that are closer to people's home, to help people stay healthy and avoid having to use hospital services.
Opening hours
Monday to Friday: 8.00am to 5.00pm
Saturday 9.00am to 12 midday (SA Pathology only)
Closed on public holidays
Services
GP Plus Super Clinic Noarlunga comprises of a variety of health services including resident agencies and visiting services located in several buildings in the precinct.
Resident services
Clean Needle Program
Early Childhood Service
Diabetes Services
SA Dental Service
SA Pathology
Strong Start, DECD
Visiting services
Cardiac Rehabilitation, Flinders Medical Centre
Child and Family Health Service, Women's and Children's Health Network
Community Paediatrician, Flinders Medical Centre
Chronic Liver Disease Service
Pulmonary Rehabilitation Service
Viral Hepatitis Liaison Service
Paediatric Diabetes Service, Flinders Medical Centre
Car parking
Car parking is available adjacent the building in the Noarlunga Hospital car park, including disability car parks. The first two hours are free, with charges applying after that time.
Disability access
The building has wheelchair access at entrances and throughout the building, including disability toilets.
Group Meeting Room bookings
You can request to book a room by completing the online GP Plus Group Booking Request form.