Flinders Medical Centre
A COVID-19 (Coronavirus) Testing Clinic is open at Flinders Medical Centre, 7 days a week 10am until 8pm. To find out more see FMC COVID-19 Testing Clinic
Flinders Medical Centre (FMC) is the southern area's largest hospital and provides medical services for people living in the southern metropolitan area of Adelaide.
The hospital is co-located with the Flinders University School of Medicine and Flinders Private Hospital.
It is one of two major trauma centres in the state with around-the-clock emergency retrieval service bringing patients to the hospital by road or helicopter.
General Information
Address
Flinders Drive, Bedford Park SA
A new prototype tool capable of detecting when a hospital patient attempts to get out of bed is in development at Flinders Medical Centre.
Seeking consumer and community members to join the Group. Nominations close 19 February 2020.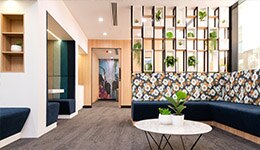 To support people affected by cancer to recover and thrive; through care, research and strong engagement with the community.