Breadcrumbs
Strathalbyn and District Health Service
For all enquiries: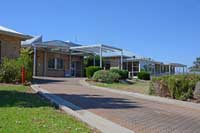 Telephone: (08) 8536 5333
Fax: (08) 8536 3510
For all emergencies phone 000
Street address:
14 Alfred Place Strathalbyn South Australia
Postal address:
14 Alfred Place Strathalbyn SA 5255
Strathalbyn and District Health Service provides acute services, ranging from in-hospital care for adults and children by local general practitioners to specialist surgical, outpatients and aged care beds.
Patients may begin their stay at the Strathalbyn and District Health Service but finish their care at one of the neighbouring hospitals with specialist medical or allied health input when required. All hospitals in the area work collaboratively to support the patient care needs of the region.
Accident and emergency
In a medical emergency, always call Triple Zero (000) for an ambulance
Mental health emergency
If you are experiencing a mental health emergency, you can present to the Accident and Emergency service at Strathalbyn and District Health Service.
Alternatively, contact the Rural and Remote Mental Health Service on 13 14 65 for mental health counselling, support and information 24 hours a day, seven days a week.
New aged care precinct in Strathalbyn
The South Australian Government is exploring how world-leading aged care can be delivered at Strathalbyn to support the local community to age well, whether that be through supporting people at home, connecting them with others, providing respite care, dementia care or day care, or providing a home in an aged care facility or aged accommodation.
This initiative is being led by the Country Health SA Local Health Network, which operates the Strathalbyn and District Health Service including the Strathalbyn and District Aged Care Facility, and the Department for Health and Wellbeing, through Finance and Corporate Services, which is managing the infrastructure required, and the Office for Ageing Well, which is delivering on the Government's commitment to supporting South Australians to age well.
The South Australian and Commonwealth Governments have already committed to jointly funding an extension of the 56-bed Strathalbyn and District Aged Care Facility by 36 beds. In addition, the State Government has made a commitment to reopen Kalimna, and is exploring a number of potential uses for the site. The State Government has also made a commitment to work with the Commonwealth Government and aged care providers to increase the provision of other aged care services in Strathalbyn and the region served by the town.
On Wednesday 6 March 2019, the Minister for Health and Wellbeing, the Hon. Stephen Wade MLC, and the Member for Heysen, Josh Teague MP, announced that the Global Centre for Modern Ageing (GCMA), a world leader in modern ageing design, had been appointed to engage the community and clinicians in a co-design process to inform the future design of a new aged care precinct in Strathalbyn that will better meet the needs of the community now and into the future, and the broader model of care in which it will operate. Minister Wade also announced that GCMA had partnered with The Australian Centre for Social Innovation (TACSI) to support the co-design process.
This project, called Co-Designing Aged Care in Strathalbyn, is part of the longer-term engagement on the future of aged care in Strathalbyn. The Co-Designing Aged Care in Strathalbyn Outcome Report (PDF 2MB) is now available.
Visiting hours
Visitors play an important part in any patient's hospital stay, and visitors are welcome.
Any visitors who are in the hospital building outside of normal business hours may need to register at the admissions desk or with nursing/midwifery staff and receive a visitor identity badge.
For security reasons some doors may be locked anywhere from 5pm until 7am. Nursing/Midwifery staff will be able to assist you with after-hours visiting as required.
Car parking
Parking is available at the front of the hospital on Alfred Place. There is also disabled parking on site.
Disabled access
Strathalbyn and District Health Service has full disability access. If you have special needs and are unsure if you will be able to access the Health Service, please contact Reception for more information and assistance.