For the menu below, use line-by-line navigation to access expanded sub-menus. The Tab key navigates through main menu items only.
About the National Antimicrobial Utilisation Surveillance Program (NAUSP)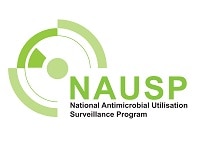 NAUSP conducts volume-based surveillance and data from this surveillance can be used to monitor trends in antimicrobial usage and benchmark usage rates against other hospitals. In 2017, the program introduced a web based "NAUSP Portal" that enables contributor hospitals to access the NAUSP database to load their data and gain timely access to usage rates.
The program provides contributor hospitals with the ability to download this information in the form of various reports to help identify areas requiring improvement or to evaluate the impact of AMS strategies. NAUSP is one component of several surveillance programs within the Antimicrobial Use and Resistance in Australia (AURA) project, and participation in the program assists with the antimicrobial stewardship requirements for National Safety and Quality in Health Care Standards accreditation.
Methodology
NAUSP uses dispensing and occupancy data supplied by contributing hospitals to analyse trends in usage over time. NAUSP collects information for a wide range of antimicrobial agents (PDF 164KB).
Monthly antimicrobial usage data (derived from pharmacy dispensing records) and patient admission data (overnight occupied bed days) are converted to the internationally recognised drug usage rate of defined daily dose (DDD) per 1000 occupied bed days.
The standardisation of data enables comparison of usage rates between agents and between hospitals and can be used to generate a national average usage rate for each agent. However, this method is not currently validated for populations where doses vary, such as in paediatric and neonatal settings. Consequently, all paediatric and neonatal data are currently excluded from NAUSP.
For further details relating to NAUSP methodology, see the NAUSP Data Principles and Definitions (PDF 409KB) and other resources below.
Resources
Further information
Visit the Antimicrobial Utilisation Reports page to view our reports which include six monthly, annual and specialty reports.
For further information on the NAUSP Portal, contact the NAUSP team at Health.NAUSPHelp@sa.gov.au.
Follow us on Twitter https://twitter.com/NAUSP_au