Breadcrumbs
Marion GP Plus Health Care Centre
For all enquiries: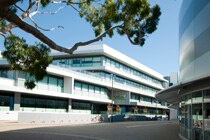 Telephone: (08) 7425 8200
Fax: (08) 7425 8248
Location: 10 Milham Street Oaklands Park South Australia Note: The entrance is opposite the State Aquatic Centre entrance on the precinct plaza, (not on Milham Street)
GP Plus Health Care Centre Marion offers a broad range of health care services in the community that are closer to people's home, to help people stay healthy and avoid having to use hospital services.
Opening hours
Monday to Friday: 8:00am to 5:00pm
Services
GP Plus Health Care Centre Marion is a facility that comprises a variety of health services including resident agencies and visiting services.
Resident agencies
Child Adolescent Mental Health Service (CAMHS)
Community Mental Health
Early Childhood Service
Intermediate Care Services (ICS)
- Bariatric Management and Intervention Service
- Diabetes Services
SA Dental Service (SADS)
Visiting services
Allergy and Immunology Clinic, Flinders Medical Centre
Ante Natal Clinic, Flinders Medical Centre
Audiology Service, Flinders University
Cardiac Rehabilitation, Flinders Medical Centre
Community Paediatrician, Flinders Medical Centre
Infertility Services, Fertility Fundamentals Inc.
Intermediate Care Services
- Chronic Liver Disease Service
- Viral Hepatitis Liaison Service
Hypertension Clinic, Flinders Medical Centre
Paediatric Diabetes Clinic, Flinders Medical Centre
Paediatric Asthma Clinic, Flinders Medical Centre
Palliative Care Services, Repatriation General Hospital
Speech Pathology Services, Flinders University
Viral Hepatitis Liaison Service, Flinders Medical Centre
Car parking
On site car parking is available, including disability car parks.
Disabled access
The building has wheelchair access at entrances and throughout the building, including disability toilets.